Most users of Microsoft outlook have most likely come across this problem at some point. It can occur when Outlook is closed and then the user tries to open it again from its system tray icon. This icon will remain in the system tray until the computer is rebooted and can cause problems if Outlook is shared because the database remains open while this icon is active.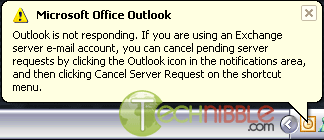 When using Outlook Express, you may occasionally experience a problem where the application freezes and stops responding, especially if you have recently tried to switch identities within Outlook Express. Fixing this Microsoft Outlook problems requires deleting a value in the Windows registry when Microsoft outlook won't open or outlook not responding. And some easy steps to fix it -
Step1:
First check that your computer is logged with administrative privileges. So login with Administrator account.
Step2:
Start from registry editor. Go to "run" and type "regedit" and click on "OK".
Step3:
Navigate to the HKEY_CURRENT_USER\Identities directory in the registry editor window.
Step4:
Highlight the "Identities" folder on the left side of the registry editor window.
Step5:
Now click on the item labeled "Changing" in the main section of the window and go to "Edit" menu and choose "Delete".
Step6:
Press "Yes" to confirm your decision to remove the registry item.